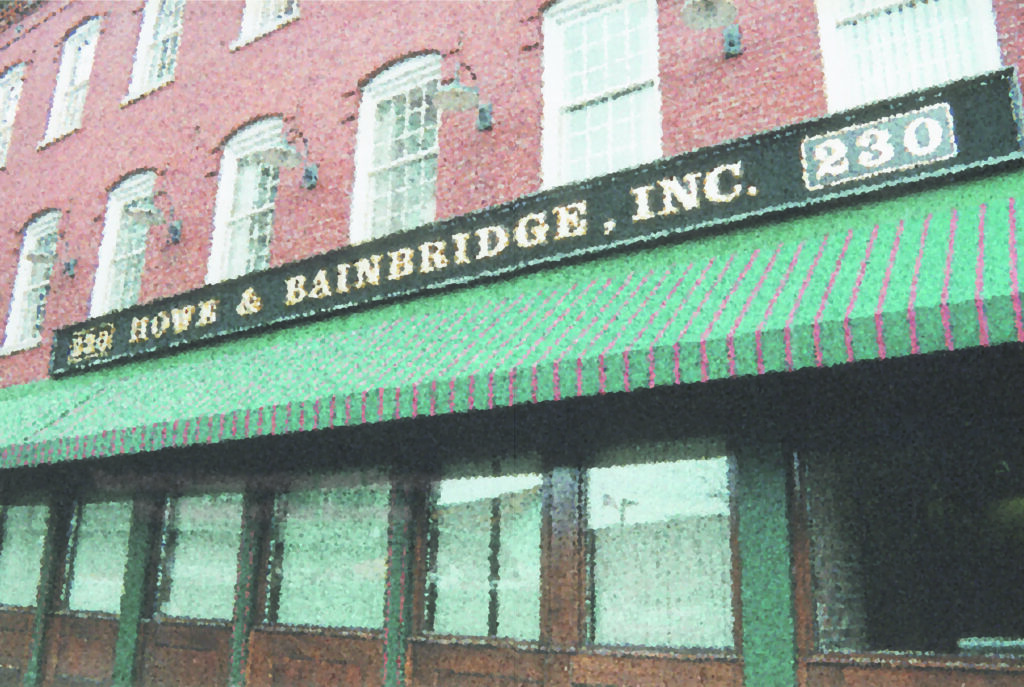 Howe and Bainbridge was founded as a partnership, a wholesaler of textiles to the marine textile and awning industries.
Howe and Bainbridge weaved very long, stapel Egyptian cotton fabrics for the sailcloth industry on special modified looms.
Synthetic fibers are developed to the point of commercial feasibility. Howe and Bainbridge produced the first experimental synthetic mainsail cloth using Cordura nylon, which was used by 'Ranger', the American boat that successfully defended the 1936 America's Cup.
High tenacity polyester yarns became readily available and Bainbridge effectively re-invented sailcloth. Dacron quickly replaced cotton as the fiber of choice. Bainbridge optimized Dacron with their unique resin stabilized finish.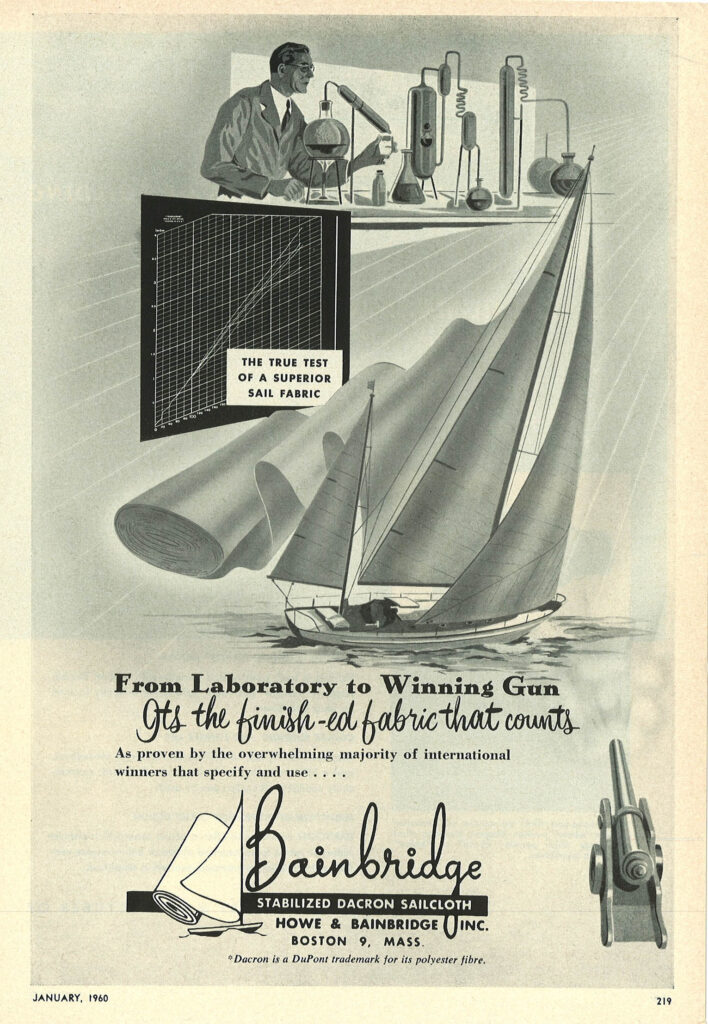 Bainbridge announced the ultimate in bias stability with 'Yarn Tempered Stabilized Dacron Sailcloth.'
Short and Norville was formed at Stoke Poges, just outside London, England. The company produced a unique composite sail batten from fiberglass and invested extensively in proprietary tooling and steadily expanded its range of sailmakers hardware.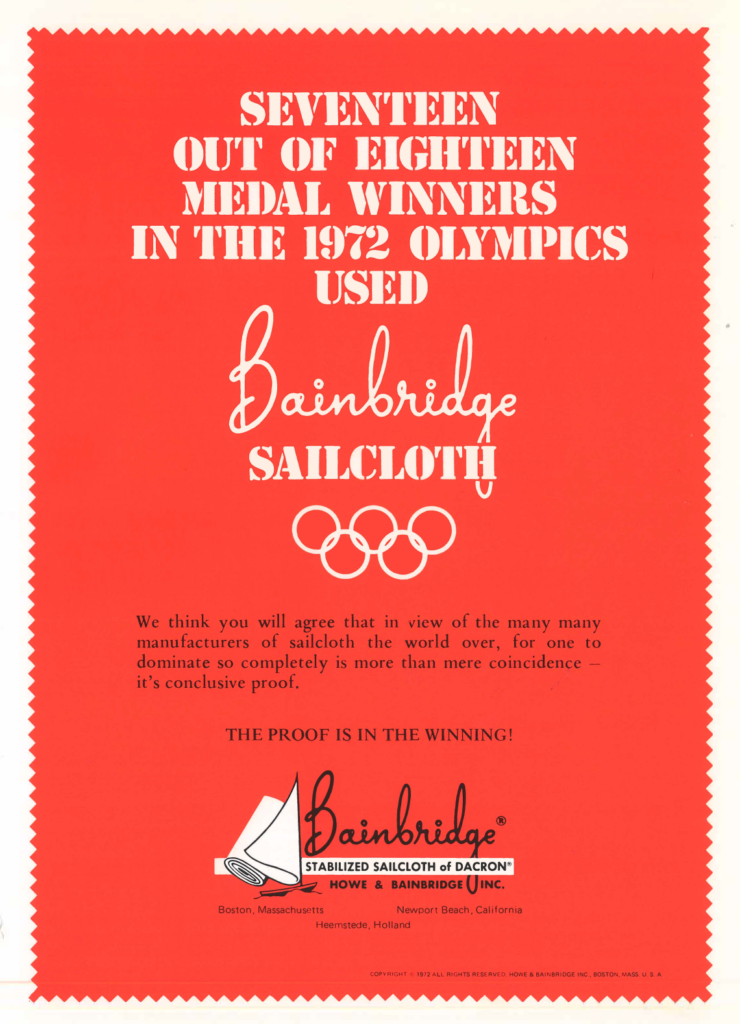 Seventeen out of eighteen medal winners in the 1972 Olympics used Bainbridge Sailcloth
Bainbridge pioneered Stabilkote, the first acceptable nylon ripstop spinnaker material, coated for improved tear resistance and porosity characteristics.
Bainbridge became a division of the Dexter Corporation, a Fortune 500 company that manufactured specialized materials and chemicals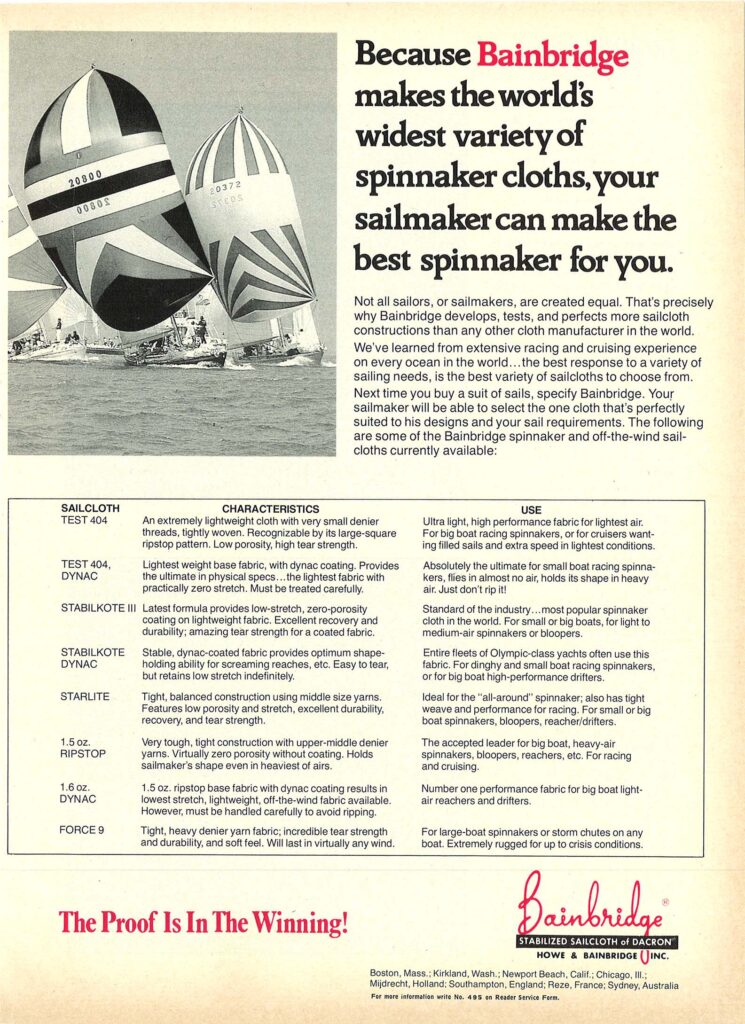 18 out of 18 Olympics yachting medals were won using Bainbridge Stabilized Sailcloth
Bainbridge introduced the Bermuda range of woven sailcloth. Coated Dacrons for cruising applications.
Short and Norville form a new company, Aquabatten Inc. to serve the American Market.
Bainbridge's state of the art Kevlar weave laminates are offered for sale.
Bainbridge advanced the science of woven sailcloth with the introduction of the High Aspect Mainsail range of fill oriented Dacrons with fibred selection and constructions engineered for greater threadline strength
'The Keels were Different but the Sailcloth was the Same' Both 'Liberty' and 'Australia II' used Bainbridge Kevlar weave laminates to fight for the America's Cup.
Bainbridge polyknits were introduced, and reduced Kevlar fiber prices helped bring Mylar/Kevlar laminates into the reach of all sailors.
Bainbridge/Aquabatten was formed by merging Howe and Bainbridge with Short and Norville and Aquabatten.
The US reclaimed the America's Cup using Bainbridge sail materials: Kevlarweaves and Stabilkote.
Bainbridge introduced Parallel Plus Laminates, based on new scrim technology, offering 'trans-directional' strength.
John Short, President of Bainbridge/Aquabatten under the Dexter Corporation purchased the company, returning it to private ownership.
Bainbridge/Aquabatten introduced tubular full-length batten technology for increased cruising performance and sail handling ease.
In response to the increased use of computer-driven plotters and cutters, Bainbridge introduced wide width sail fabrics.
Bainbridge CL Cruising Laminates are developed and introduced the combination of Parallel Plus scrims and polyester taffetas push cruising sails into the modern age.
Bainbridge Spectra Cruising Laminates (SCL's) are engineered with Spectra 1000 to meet the demands of the growing super yacht market.
DIAX High modulus Kevlar-49 racing laminates set a new stand for fabric performance and stability.
'Yamaha' and 'New Zealand Endeavour' won their respective classes in the Whitbread Round the World Race. Both boats carried full inventories of Bainbridge PW and PW Offshore laminates.
Following extensive research and development, Coverguard® was introduced to the Bainbridge portfolio. Coverguard, Flame Retardant Temporary Protection Systems, used during new building, refurbishment, maintenance and outfitting.
The name was changed to Bainbridge International in 1996, to reflect the worldwide nature of the business.
AIRX Spinnaker was developed and launched. This redefined the standards in spinnaker fabrics, with the combination of strength, performance and durability.
Sailman Full Batten Systems were developed in conjunction with the Challenge Business for the BT Global Challenge Race.
AIRX Spinnaker fabrics features on board Kingfisher as Ellen McArthur sailed into the history books with her momentous 2nd place in 2000 - 2001 Vendee Globe.
Volvo 60's, 'Illbruck', 'Assa Abloy' and 'News Corp' all chose to include AIRX Spinnaker fabrics in their inventories and finished the  Volvo Ocean Race in 1st, 2nd and 5th respectively.
Bainbridge develops carbon fiber scrim laminates and a new multi-purpose spinnaker nylon, MP-70.
Bainbridge launches AIRX-400N - a 26gsm spinnaker fabric specifically for the America's Cup.
ABN AMRO wins 2006 Volvo Ocean Race with AIRX spinnaker fabric.
Bainbridge International introduces new DIAX2 Race range of Performance Laminates. Diax2 Race takes the DIAX concept to the next level by incorporating multiple layers of fibre with two DIAX scrims combined with a fill orientated 0/90 base layer to provide six primary threadlines. This allows fibres to be aligned to load paths without the cost or complexity of tri-radial panel layout or flipping luff panels.

Bainbridge International introduces new Ocean Premium Plus at METS after an extensive development program culminating in successful sea trials. We are excited to announce the arrival of a new concept in woven polyester sailcloth. Ocean Premium Plus has been designed specifically for the discerning boat owner who requires durability, high performance and a prestigious look, all in one package.
Bainbridge International USA opens a new branch in Pompano Beach, FL
Bainbridge International USA enters a new era under the sole ownership of Michael C Cuscia Jr.
Bainbridge International becomes an official U.S. distributor for Karver, Watt&Sea and Plastimo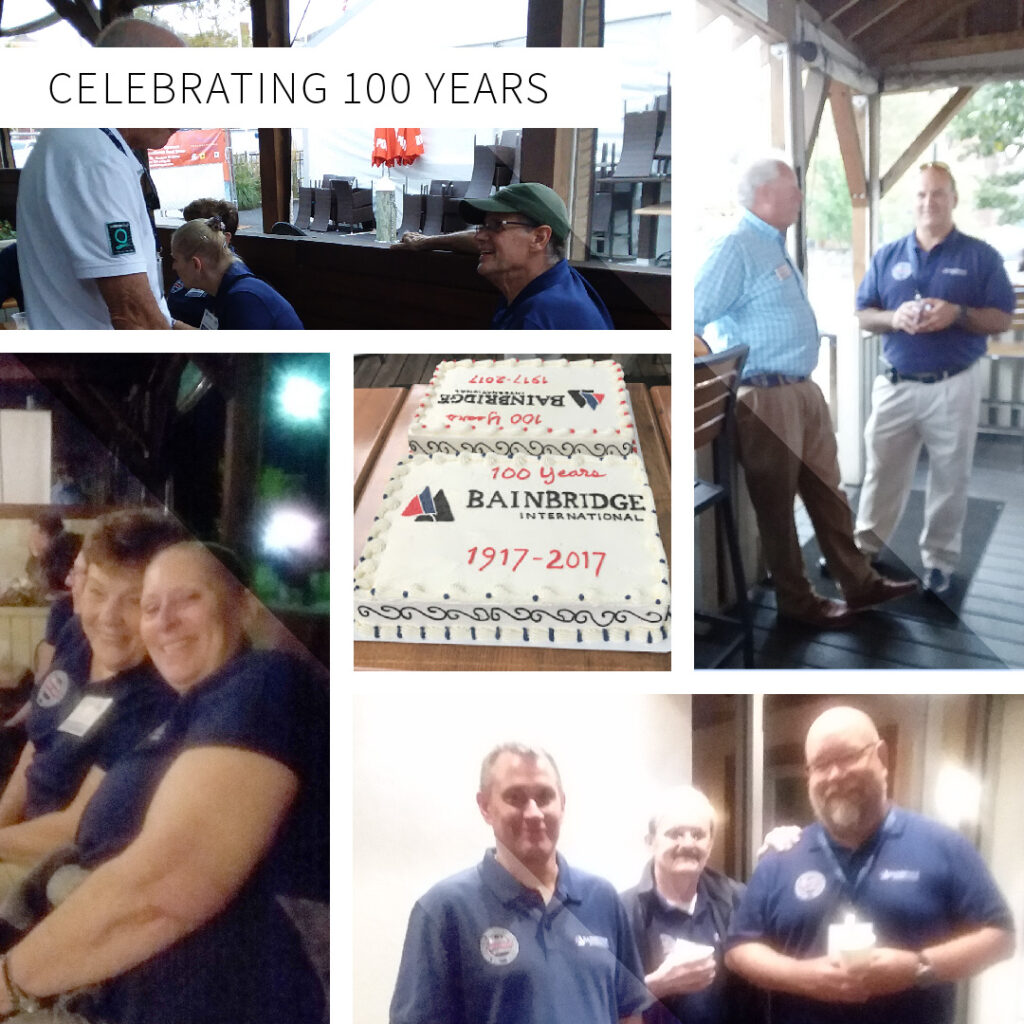 Bainbridge International celebrates  100 years as a leading sailcloth manufacturer.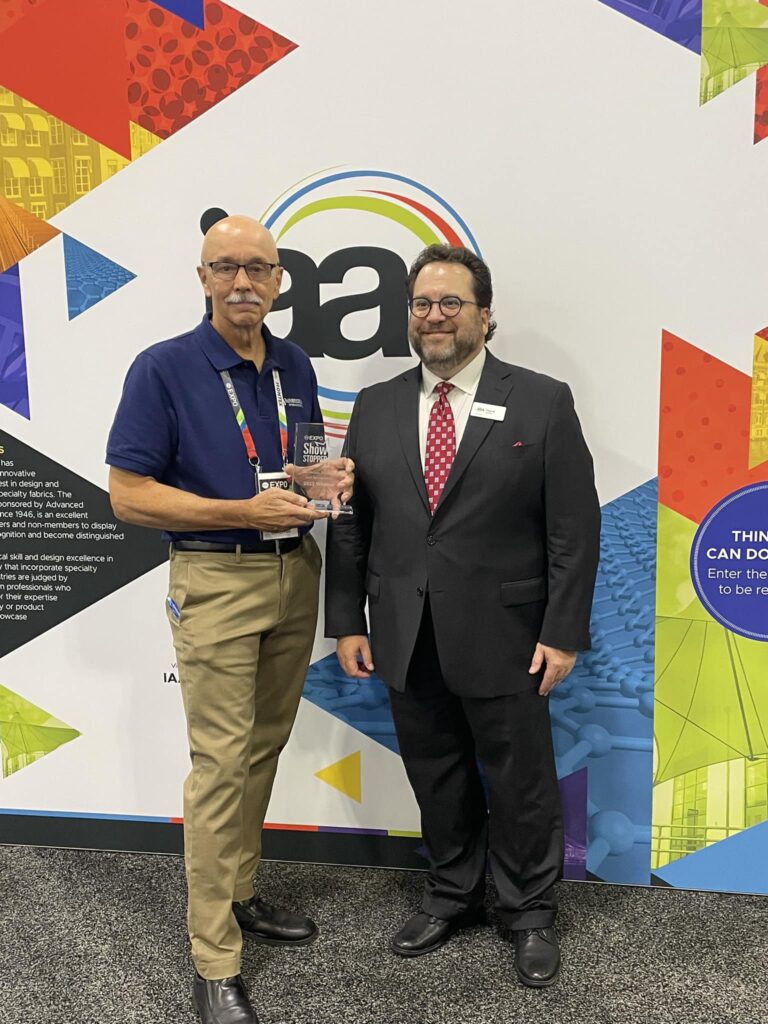 Bainbridge Nauti Carbon Poles™ have been awarded the title of "The Show Stopper" at the 2022 Advanced Textiles Expo!

Bainbridge launches AwnSure™18FR, exclusive high-performance awning vinyl.