manufacturer of flexible PVC composite textiles for applications that demand exceptional aesthetics, durability, and return on investment.
Herculite® Weblon Regatta® Marine Fabric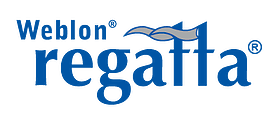 Weblon Regatta from Herculite is an all-weather boat fabric that's built to withstand the rigors of the marine environment. Boat fabrics must stand up to intense sun and harsh weather without fading, stretching, or fraying, and our waterproof boat fabric is up to the task. When you use Weblon Regatta® for your Bimini tops or boat covers, you'll cover your marine craft with an attractive look your customers will love.
| | |
| --- | --- |
| Construction | Vinyl laminated on a weft insertion scrim base of high tenacity filament polyester. |
| Width | 62 inches/1.57 meters |
| Roll Size | 50 yds |
| Weight | 13 oz./yd² +/- 10% |
| Colors | Available as single color or with pastel underside. |
| Surface Treatment | Rainkleen® Finish |
| Welding | Can be sealed by hot air wedge welder or radio frequency bar type. |
| Warranty | 5 Years |

Available in Duplex Colors
Featuring classic marine colors to stand up to the elements, Weblon Regatta is available with a white top side and pastel linings to relieve glare on the water.

Age, Fade, Dirt and Mildew Resistant
Weblon Regatta fabrics are top coated with Rain Kleen®, a proprietary top coating system that helps prolong fabric life and preserve its color intensity.

Stretch Resistant
Regatta® is stretch-resistant to maintain the shape your customers want. Once sealed, it resists stretching and maintains its shape to avoid warping and sagging.

Made in America
Weblon Regatta is made in our facility in York, Pennsylvania for the finest in quality control. All our textiles are packaged to the highest standards to ensure easy use.